Bridges with LEGO - ZNAP
---
Bridge from Matthew D. Bates Traindepot (Bricklink version)


Picture 1, VRML (132kb!), Povray picture
Bridge based on the above with supports


This design proved quite sturdy as my little niece, at that time 2 years old, loved to sit on it. The sides are attached to the track and held in place by extra parts pressing the sides towards the track. The height of the supports also fits the duplo bridge ramps.
Nine Track Bridge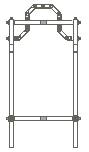 Povray picture, Structural system
An eight track piece long section hangs relative free from an arch like structure. This gives a fairly free view of the train when it crosses the bridge. The bridge is wider than the above and therefore allows for a greater variety of rolling stock. This bridge can also easily be adapted to use with duplo trains.
Bridge based on a picture seen on Brickshelf
| .../kk/GATS2002Tampa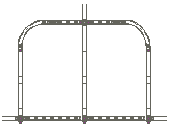 This bridge has a span of 6 piece of track and can be used between tables rather easily as the track needs no ramps if the bridge is lifted slightly. This was one of the reasons why I tried to build an LDraw version of the bridge. A second thing I found interesting was how similar the basic design structure was to my 9 track bridge. Both can be described as based on the Track Depot bridge. While mine sort of raised it higher and hung the track from above, this one can be seen as two Track Depot side designs stacked on top of each other.
---
The LDraw pieces of ZNAP I used to build these bridges can be found here. These must be considered as only mockups at the moment though as a lot of details are left out. This may change.
---
tw 20030705